Outdoor Learning and Retreat Center
University &
Church Groups
We have number of options for University and Church groups and are always happy to work with you to create the perfect event for your organization.
We've hosted everything from worship services and dance parties to greek life retreats and college orientation programs. So we have the experience to help you troubleshoot the planning process.
We have multiple dining locations and both large and small breakout spaces, so you can pick the areas that are right for your event. Many of our breakout spaces are equipped with audio visual equipment, and we can set up tables and chairs to whatever layout you would like. And if you are looking to get outside for some fun during your time here, we have instructors ready to lead your group in team building, high ropes, and even a few offsite trips like hiking or canoeing.
Activities
Facilities & Lodging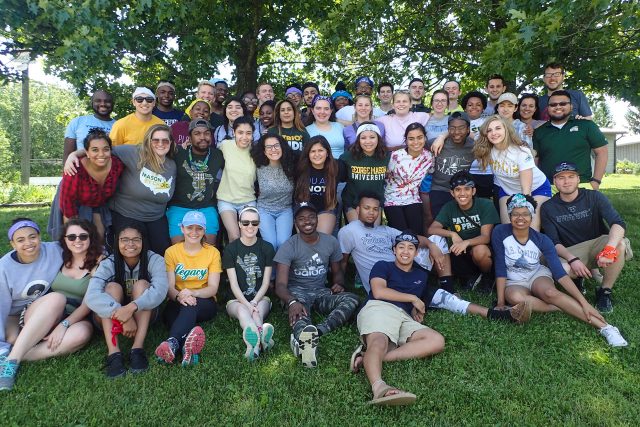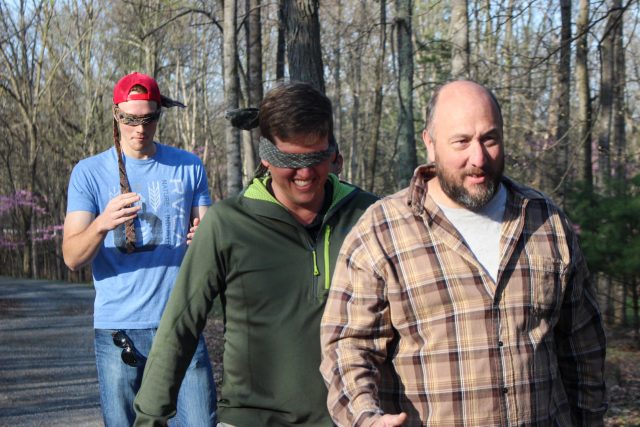 Outdoor Adventure
Equestrian
(extra cost) Camp Horizons Only
Ring Ride
Learn how to steer and stop your horse as you ride around the ring. In this group style lesson, participants will be assigned a horse to ride as an experienced instructor teaches them the fundamentals of horseback riding. Younger participants will have their horses led by and instructor. This activity time also includes a 45-minute horse care lesson where you learn how to brush and feed, as well as basic anatomy of the horse.
Trail Ride
(min age: 10 years) During this group trail ride, participants will first learn to stop and steer their horse before heading out on a leisurely ride around camp
Water Activities on Site
(Seasonal) Camp Horizons Only
Canoeing
Lake Philippa is the perfect setting to learn and practice basic canoeing skills. Participants will learn about canoe safety, paddling techniques, and a lot about teamwork as they paddle around the lake with their partners and play games.
Kayaking
Participants will learn how to paddle a kayak around the lake and will get to put their new moves into practice while playing games.
Lake Free Swim
Put a life jacket on and enjoy swimming in Lake Philippa. Hold on tight as you fly down the zip line or see how fast you can slide down the water slide.
Pool Free Swim
Relax in the reclining pool chairs or jump off the diving board! Everyone loves swim time in the pool. With a depth ranging from a few feet to 9 feet, every participant will feel comfortable.
---
Team Dynamics & Leadership
Evening Program (extra cost)
(extra cost)
Field Games
Anything from buddy tag and capture the flag, to gaga and kick ball, participants will enjoy a mix of active games during this activity. Games will be chosen to best fit the group and their interests.
Personal Challenge Course
Afton Medium Ropes
(MC) This is the perfect experience for younger grades as they get comfortable in a harness and with heights. This course is 8ft off the ground
Appalachian High Ropes Course
(MC) Min age: 8th grade) Head up into the sky and be challenged as two participants work together to make their way around this high ropes course.
Massanutten High Ropes Course
(CH) (min age: 5th Grade) Try out our improved high ropes experience! From the "Postman's Walk" to the "Pirates Crossing", participants will get to navigate their way through several elements before flying down the zipline.
Shenandoah High Ropes Course
(CH) (min age: 5th Grade) Combining team work and individual growth, the Shenandoah course encourages trust and perseverance. Following Challenge By Choice practices, participants try out individual elements while their teammates belay them from below.
Personal Challenge Elements
Climbing Wall
Reach new heights on our 40ft climbing tower. Using harnesses, ropes, and the belay system, participants may enjoy the beginner wall, the challenge of the overhang, or the fun of the cargo net and moving structures on the play pen side.
Flying Squirrel
(max age 3rd grade) Attached to the end of a rope, the participant sets off running at the same moment their team mates start pulling the other end of the rope. The participant is lifted off the ground up to 20' as they fly upwards just like Peter Pan. This is a great element for young participants and helps them build up to other high adventure activities.
Giant Swing
(min age: 4th grade) Harnessed in and attached to metal cables, one participant is pulled high into the air by their teammates. When ready, the participant releases them self and is sent swinging back and forth.
Giant's Ladder
(min age: 5th grade) Done in pairs, the Giant's Ladder is a powerful partner-team tool. Imagine a wide ladder with large wooden rungs. Each step gets progressively bigger, from three to six feet apart. Participants find out quickly how important it is to help each other and that their success depends on their teammate.
Leap of Faith
(min age: 5th grade) While on belay, participants will climb to the top of a telephone pole where they will be challenged to stand on top. What comes next is the "Leap of Faith"; with encouragement from their team mates they will jump off the pole and high five the ball suspended in the air.
Zip Line
(min age: 5th grade) Participants will push their personal boundaries as they climb up towards the zip platform. Once at the platform, participants will slide off and zoom down the 400ft zipline!
Team Building
Field Games
Anything from buddy tag and capture the flag, to gaga and kick ball, participants will enjoy a mix of active games during this activity. Games will be chosen to best fit the group and their interests.
Field Initiatives
Using portable games and team building activities, groups will learn communication, planning, and team work while completing challenges and solving problems. With outcomes similar to the Team Building Course, this is a great choice during inclement weather or shorter activity times as they can be completed inside.
Team Building Course
(min age: 4th grade) Using prebuilt elements such as the Birthday Beam, Whale Watch, and Toxic Waste, participants will be challenged to complete a task. Some tasks have physical challenges while some require great planning and cooperation. An instructor will lead your group through challenges that fit your group and meet your needs.
Total Team Cooperative Challenges
Groups will be given tasks that need planning, communication, and strategic thinking to complete. Examples of cooperative challenges are building a spaghetti tower, egg drop, or building a cardboard boat that can hold up during its journey across the lake.