About Us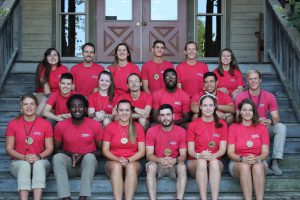 The Outdoor Learning Center serves K-12 school groups, university and church programs, scout groups, and those looking to host a meeting or retreat. Each of our venues has an atmosphere all its own, and we can help match you with the space that will suit you best. While we specialize in K-12 overnight programs at our camp facility, our two nearby meeting and retreat centers are designed for professional clients who are seeking a full service meeting and retreat venue with all the amenities to make their team both comfortable and productive.
Our company developed organically from our experience as one of Virginia's premier summer camp programs. From early June through late August, our Horizons facility houses happy campers from all around the world, but in the spring and fall camp got a little too quiet for our liking. So, we broadened our scope to allow us to operate through multiple seasons. We began offering quality Outdoors Adventures, Team Dynamics and Environmental Education programming to schools, scouts and other youth in the surrounding Virginia, DC, and Maryland area. Word spread about our exciting programs, skilled instructors, and our beautiful facilities, and our outdoor programming client base grew. Now, we host groups from all walks of life, both youth and adult.
We design powerful outdoor educational programs, create safe and memorable events, and provide the folks that stay with us an opportunity to enjoy the Shenandoah Valley in a number of ways. With a year round team of professional staff to handle all the logistics and planning, we are setup to support or create whatever you can dream up.
Challenge by Choice
The challenge course program is designed with obstacles that must be overcome both individually and as a group. From this has grown the philosophy, Challenge by Choice.
Challenge by Choice does not mean that some participants can choose to sit by while their team is addressing the obstacle. It means that every person participates 100% based on the degree of challenge they choose. A team may encourage a person to keep going, take one more step, climb higher; however, each person is free to choose their own level of challenge. Group members are asked to respect the degree of challenge that each person chooses throughout the course and are asked to commit to the following:
"I will do everything possible to help the group accomplish the tasks set before us, recognizing that I may make choices different from others and others may make choices different from mine."