Outdoor Learning Center at Horizons
As youth outdoor education professionals, many of our Directors and Instructors have grown up in different scouting organizations. With all the experience shared among our staff team, we have been able to create some amazing programs for Girl Scout Encampments, Boy Scout Troops, and a variety of other scouting organizations.
Facilities and Activities
With a full equestrian center, archery programs, a climbing tower, a lake, and farm & garden classes, we are able to offer a variety of badges-related activities. We have accommodations that fit your needs, from rustic platform tents to cozy cabins.
Girl Scouts
For Girl Scouts specifically, we have gone a step further to become a program partner with The Nation's Capital Area Girl Scouts, The Black Diamond Area Girl Scouts, and The Skyline Area Girl Scouts. We frequently host encampments and are ready to support you through the planning process with schedule templates and activity descriptions. We even host our own "Girl Scout Weekend" each season where individual troops can come out and join us for activities, community, and evening programs.
Activities
Packing List
Facilities & Lodging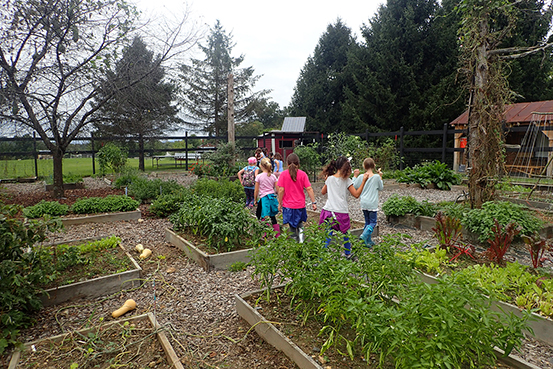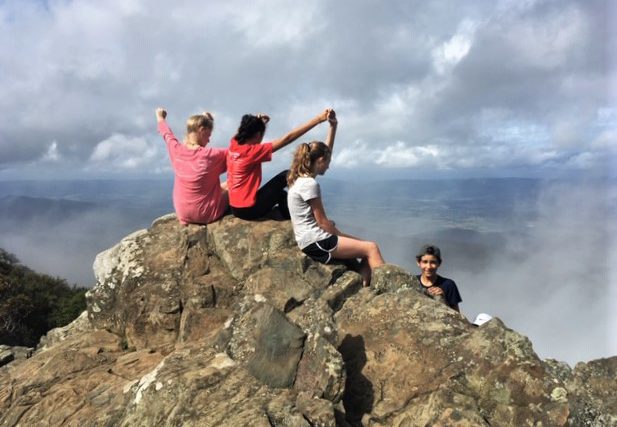 Environmental Education & Science
Arts & Crafts

Basketry
(min age: 3rd grade) This classic art form is always a favorite. Each student gets a beginner basketry kit and our instructors work with students to braid and weave a product that the students can take home with them.  This activity costs an additional $1 per child to offset the cost of the basketry kits.

Nature Art
(min age: 1st grade) Natures not just for hiking in! In this nature based art class we will make art using nature materials we find around us. Sculpture, weaving, and painting! This class takes many forms and lets students go where their creativity takes them.
Tie Dye
(min age: 1st grade) Spiral, stripes, and technicolor! Each participant will get to fold and dye their own shirt to take home with them. We provide the dye and instruction. Participants must bring their own white clothing item to dye for this activity.
Environmental Sciences
Instincts of Survival
(min age: 3rd grade) A strategic and energetic run-around game meant to teach participants all about carrying capacity in an ecosystem. Playing as herbivores, omnivores, and carnivores, players will travel around our instincts course looking for food and water to survive and ultimately balance the ecosystem of which they are a part.
Native Animal ID Hike
(min age: 1st grade) Slightly more formal than our Exploration style classes, we will hit the trail on a preset hiking path to find clues that identify what animals have been by the area. Just like nature shows and documentaries we will find prints and scatt that will start us off on a conversation about the animals that are native to the area. Once we complete our hike, we finish class looking over the skulls of some of the animals we tracked. With these artifacts in front of us, we discuss the animals' unique behavioral and physical adaptations. Some examples are our Skull hike, Scat and Track hike, and Pelt Study hike.

Native Birds ID Hike
(min age: 1st grade) Virginia is home to an amazing array of different bird species. We will learn how to identify them through the songs they sing, their plumage, and even some of their common behaviors! Then dependent on group age and wants we will end the class by making bird feeders to hang up outside to entice some birds to come close so we can practice our I.D. skills or even go on a hike to identify some in our own backyard.
Native Plant & Tree ID
(min. age 4th grade) Tree and plant identification is an awesome skills and gets students to really appreciate the natural world. As we hike through camp we will stop ad work to identify several different native species using our ID books. Our knowledgeable instructors will add to the learning by highlighting what the different plants are commonly used for, who uses them as shelter, and who may use them for food. At the end of the hike, students are tested on their knowledge and get to walk away feeling empowered to identify different plants during the rest of their time on camp.
Nature Exploration
(min age: 1st grade) Whether you are 50 or 5, a walk in the woods can always provide some insight. Students will explore our forests along with our knowledgeable instructors to see what they discover. Our younger classes often play a nature-themed bingo scavenger hunt while our older groups do a bit more inquiry based learning with some breakout periods for sketching and quiet observation.
Pond/Stream Exploration
(min age: 1st grade) With a net, bucket, and identification sheet in hand, participants explore one of the many ponds or creeks around camp. During this activity participants will likely find tadpoles, fish, salamanders, and many macro-invertebrates.  Much like our Nature Exploration class, our younger students often play a pond critter themed bingo scavenger hunt while our older participants do a more formal sampling of the available species and use their findings to assess water quality.
Farm

A Day in the Life of a Farmer
(min age: 1st grade) Students love our farm program, and this is the best place to start for our first-time visitors. In this class we will introduce students to all the farm animals we have on site. They will get the chance to get up close and personal with our cows, chickens and pigs as they help with basic farm chorus and learn what it takes to raise animals on a farm.
Chicken, Eggs & Chicks
(min age: 3rd grade) We aren't just talking chickens here! In this hands-on lesson, students will not only get to meet the chickens and chicks that we have here, they will also meet all the rare birds that we rotate in and out of the farm each week. Rolling pigeons, Indian runner ducks, and the majestic peacock are just a few of the birds that come to visit. We even have a small hatchery on site so you can see what goes into the egg laying process!

History of Grains
(min age: 3rd grade) Do you know how important grains are? Could you tell the difference barley, brown rice and buckwheat? Grains have played an important role in human civilization, and we use this class to learn about how they have grown alongside humans, what they are used for, and how to tell them apart.
Milk, Cheese & Butter
(min age: 3rd grade) Come meet the big mammals that call our small farm home! In this hands-on lesson, students will learn about dairy production and what raising animals for milk looks like. They will learn the anatomy and how to care for the animals in the first half of class. Then, after a good hand washing, students will move over to our outdoor kitchen to learn about the process of making cheese and butter. Additional cost. 
Garden
A Day in the Life of a Gardener
(min age: 1st grade) Students love getting dirty in the garden, and this is the best place to start for first-time visitors. In this class we introduce students to the intricate workings of plants, soil, insects, and other living organisms that make the garden so exciting. As students move through on their tour, they will help with basic garden chores and learn what it takes to keep a garden thriving. Projects change based on the age of the students and the current season.

Apples, Seeds & Cider
(min age: 1st grade) Apples are a great entry point into the wonderful world of farming and gardening. We use this class to jump into farm life by introducing apples from a bushel of different angles. We will read a Native American story about the little apple tree, learn about how they have grown and changed into many different varieties, make an apple themed art project, and even press our own apple juice. This class is sweet!
Good Bugs & Bad Bugs
(min age: 1st grade) Not all bugs are bad, and we are here to prove it. In this lesson, students will get the opportunity to look at the many different types of bugs that can be found in a common garden and just what to think about them. They will learn about symbiotic and parasitic relationships as they make an organic and safe bug repellent out of some common kitchen ingredients. Finally, they will get a chance to meet some good bugs up close as we release a batch into our local garden plot.
Herbs and Their Many Uses
(min age: 3rd grade) In this class we will use all 5 of our senses to investigate the many uses of herbs in the garden. We will learn about their uses in cooking and medicine, and we will even make our own lip balm out of some of the ingredients on hand. And no class on herbs would be complete without a little homemade tea to try as we work through the diverse history and use of these amazing plants.

Pollinators & The Importance of Bees
(min age: 3rd grade) Do you know how important insect pollinators are in producing the food we eat? We will take the time to learn about which insects aid the pollination process and how they make it work. Not only will we help act as pollinators ourselves, but also we will go in depth about one of the most important pollinators on the planet… BEES! We will learn how they communicate, live, grow, and work. We will even get a chance to try locally made honey!
The Life of a Seed
(min age: 1st grade) With magnifying glasses in hand we will explore the garden looking at different types of seeds, their immense variety, and how they start the growing process. After exploring we will sit down and read a short story or article related to the life of a seed (relevant to age group) before we plant our own seed to grow in the garden.
The Science of Composting
(min. age 3rd grade) Students will work with our resident gardener as they learn about the science of composting. They will learn about common items that we throw away, which could be turned into high-quality soils and fertilizer. Then, they will get to work as they add to our compost bins, flip and turn our different compost heaps, and even meet some worms that we have put to work making high-quality soil for us.
Nature Center
Owl Pellet Exploration
(min age: 4th grade) Students will explore the adaptations and unique traits that make owls one of the most effective nighttime predators. Students will examine the hunting habits of owls and dissect owl pellets to further examine these unique creatures. Students will learn about predator/prey relationships and how humans interact with owls. 

Reptiles & Amphibians
(min age: 1st grade) Come into our Nature Center and spend some time with our resident reptiles and amphibians. One of our trained instructor will lead the lesson showing what makes amphibians and reptiles such cool animals, and allow for students to get up close and personal with turtles, snakes, and frogs!
Presenters
(additional cost)

Mobile Beehive with Shenandoah Valley Beekeepers
(additional fee/no min age/from 12-24 participants): The Shenandoah Valley is a well-established agricultural area. And a lot of that success rests on the backs of bees and beekeepers alike. In this presentation, our friend Mrs. Sue brings her beehive with her so that we can get to know a bit about how the bees work, what the queen does, and just what a hive looks like on the inside. But don't fret if you are worried about the bees getting too close; Mrs. Sues hive is contained inside a see-through plexiglass container that keeps the bees safe inside working away. This activity costs an additional fee of $75 for two, 1.5-hour sessions to directly support the Shenandoah Valley Bee Keepers.
Mobile Dairy Classroom with Southland Dairy Farmers
(additional fee/no min age/from 12- 300 participants): This is one of the coolest farm activities on 6 wheels! Our friend, Mrs. LaVaun drives down from her farm with one of her favorite milking cows and gives us a demonstration on how cows are milked and what goes into to getting a glass of milk all the way to your refrigerator. But this isn't just old school milking by hand. Mrs. LaVaun's trailer has high tech milking equipment on it so you can see how cows are milked super quickly and humanely using modern technology. Not only is it cool to watch, but Mrs. LaVaun is a professional presenter and educator, so she knows what it takes to keep everyone engaged and excited. This activity costs an additional fee of $100 for a maximum of two, 1.5-hour sessions to directly support the Mobile Dairy Classroom.

Underground Classroom with Headwaters Soil and Water Conservation
(additional fee/no min age/from 12-100 participants): This is a classroom unlike any you have ever seen before. This super long cargo trailer has been converted into an underground mole tunnel that you can walk through. As students walk through the trailer, they will notice giant worms, root systems, and different microorganisms that demonstrate just how alive soil is. The folks who came up with this cool contraption then take students through a series of lessons that help dive deep on the topics of soil health and conservation. And coolest of all, the trailer is completely handicap accessible so that everyone can join in the fun. This activity costs an additional fee of $290 for four, 1.5-hour sessions to directly support the Underground Classroom.
---
Outdoor Adventure & Offsite Trips
Day Trips Off-Site
(additional cost)

Caving
(min age: 4th grade) Head underground during this off-site trip and experience a whole new world. Participants will learn how to use a map and compass, the basics of caving safety, and how caves are formed as they walk and crawl through the cave.
Day Hike
(min age: 4th grade) Head off site with a pack lunch for an age-appropriate day hike in the Shenandoah National Park or George Washington National Forest. Both full day and half day hikes are available.

Luray Caverns
(min age: 3rd grade) Explore one of the areas most iconic and exciting caverns tours and bring science lessons to life in this awesome underground labyrinth of ancient formations. For more information, visit luraycaverns.com
NROCKS Canopy Tour
(min age: 7th grade) Spend a day in the trees with this extensive canopy tour course of 12 connected zip lines, 3 sky bridges, and a multitude of tree platforms. Your group will love zipping from tree to tree as they control their own approach, and even get to rappel back to the ground at the end. For more information on the Canopy Tour, visit nrocks.com
NROCKS Via Ferrata
(min age: 8th grade) Take your team on a one of a kind climbing adventure. The Via is a combination of fixed anchor professionally guided rock-climbing that takes between 3-5 hours. It is a great way for folks to experience the heights of multi-pitch rock climbing without the technical side of knots and ropes involved. For more information on the Via Ferrata, visit nrocks.com
River Canoeing
(min age: 5th grade) Spend a half-day or whole day on the beautiful Shenandoah River. Participants will get to learn the ins and outs of rowing a canoe in moving water while making memories and seeing Virginia wildlife along the way. We utilize a large portion of the river for our trips, so length and difficulty can/will be adjusted based on age, ability, and weather.
Rock Climbing
(min age: 4th grade) Equipped with a harness, helmet, and climbing shoes, each participant will learn safe climbing techniques as they climb up the cliff faces in the George Washington National Forest. With varying levels of climbing routes, everyone will enjoy this activity as they challenge themselves.
Equestrian
(additional cost) Camp Horizons Only

Ring Ride & Horse Care
(min age: 5 years old) (Available from early April through early November) learn how to steer and stop your horse as you ride around the ring. In this group-style lesson, participants will be assigned a horse to ride as an experienced instructor teaches them the fundamentals of horseback riding. Younger participants will have their horses led by an instructor. This activity time also includes a 45-minute horse care lesson where you learn how to brush and feed, as well as basic anatomy of the horse.

Trail Ride
(min age: 9 years old) (Available from early April through early November) During this group trail ride, participants will first learn to stop and steer their horse before heading out on a leisurely ride around camp
Expeditions
Custom Outdoor Adventure, Service, or Environmental Ed. Trips
(min. age: 7th grade – min. 12 participants) We do custom outdoor adventure travel trips! If you are interested in going rafting in West Virginia, kayaking in Virginia Beach, building houses with Habitat for Humanity, exploring local caves, or anything in between, we've got it covered. We can handle food, cover transportation, provide tents and camping equipment, and coordinate all the logistics to make it an enjoyable trip for both students and chaperones.
Off-Site Overnight Trips
(additional cost)
Overnight Backpacking
(min age: 6th grade) Pack up everything you need and spend the day hiking in Shenandoah National Park or George Washington National Forest. As the afternoon ends, set up camp, cook dinner on the camp stove, and enjoy an evening together in nature before heading to your tents for a great night's sleep! We work hard to choose a backpacking trip length appropriate for your group's needs as well as provide backpacks, tents, cooking supplies, and experienced staff to make your trip a reality.
Overnight River Canoeing
(min age: 6th grade) Already experienced a ½ day or full day canoe trip and would like to expand your outdoor skills? On this overnight trip participants will spend the day paddling down the Shenandoah River and then pull off the river for an evening of cooking on the camp stove, games, camp fire stories, and sleeping in tents.
On-Site Water Activities
(Mid-March to Mid-October) Camp Horizons Only
Canoeing
(min age: 3rd grade) Lake Philippa is the perfect setting to learn and practice basic canoeing skills. Participants will learn about canoe safety, paddling techniques, and a lot about teamwork as they paddle around the lake with their partners and play games.
Lake Free Swim
Put a life jacket on and enjoy swimming in Lake Philippa. Hold on tight as you fly down the zip line or see how fast you can slide down the water slide.
Pool Free Swim
Relax in the reclining pool chairs or jump off the diving board! Everyone loves swim time in the pool. With a depth ranging from a few feet to 9 feet, every participant will feel comfortable.
Water Craft
(min age: 3rd grade) Participants will have fun on the water while learning to paddle a kayak or paddle board and will get to put their new moves into practice while playing games. *Only available late spring through early fall due to weather.*
Wilderness Skills
Archery
(min age: 3rd grade) Bullseye! Participants will learn how to safely use a bow and arrow and get to practice their shooting skills at stationary targets.
Fire Building
(min age: 3rd grade) Tinder, kindling and fuel; participants learn the components needed to build a fire and learn fire safety.  Split into small groups of 2-4, they will then get to put what they have learned into practice. *This can be a full or ½ activity block with the addition of another ½ activity.
Fishing
(min age: 4th grade) Fishing pole and bait in hand, participants will spend time fishing in our own lake. This activity can be an unguided activity block or led by OLC staff.
Navigation & Orienteering
(min age: 4th grade) Introduction to basic navigation skills using a compass. Participants will learn the parts of a compass as well as an understanding for how they work and why we use them. When everyone has an understanding of how to use a compass, groups will use their compass to find letters to spell out a secret word!
Outdoor Cooking
(min age: 5th grade) Students will prepare meals over the fire, on camp stoves, or even make no-bake recipes as if there were camping out. It is a super fun class with the bonus of a built in snack!
Overnight Trip Prep & LNT Ethics
(min age: 6th grade) This class is designed to prepare students for our offsite backpacking trips. It is a great opportunity to learn about packing techniques, review campsite setup, and learn about "Leave No Trace" best practices before hitting the trail or the river for a camp-out.
Shelter Building
Shelter is the greatest need in outdoor survival! Working in small groups, participants will use sticks and leaves to create shelters that could protect them from the elements. On rainy days the option of using tarps will be available.
---
Team Building & Personal Challenge
Cooperative Challenges

Cardboard Build Co-Op Challenge
(min age: 5th grade) Students will start with $20 horizons dollars. They will be able to go to the horizons carboard shop to buy materials from  cardboard, scissors, duct tape, trash bags, balloons, canoe paddles and more. Then they will be given an object to build out of the materials that must properly perform its given function. Maybe they need to build a boat out of cardboard that will transport one of their classmates across our lake! Or maybe they need to build a nice chair that can hold their chaperone! Whatever the object, students have to plan, budget, build, and test their way to a final product.

Egg Drop Co-Op Challenge
(min age: 3rd grade) Students will be divided into small groups and will be given an egg to protect. They will have a little over an hour to create a container for their egg that will keep it safe from a fall of 35 ft. This activity requires planning, communication, and strategic thinking to complete the task.

Survivor Co-Op Challenge
(min age: 5th grade) Students will work together to complete this survival scenario. With limited time and limited supplies, the teams must create a shelter, build a fire, and work to both purify water and cook food. It is an exciting challenge that works well for students who have previously done a few of our Wilderness Survival classes.
Evening Program
(additional cost)
Campfire Program
During this traditional evening program, participants will enjoy a s'more, join in with call and response style camp songs, and laugh along to funny camp skits.
Dutch Auction
(min age: 3rd grade) Everyone loves a good Dutch Auction. Group Leaders will be asked to act as judges as groups of participants use their creativity, acting skills, and items they have on hand to create anything from "a funky hat" to a skit about their favorite book.
Field Games
Anything from buddy tag and capture the flag, to gaga and kick ball, participants will enjoy a mix of active games during this activity. Games will be chosen to best fit the group and their interests.
Minute to Win It
Participants will race against each other and the clock to complete challenges and gain points for their team!
Movie Night
Sit back, relax, and kick off your shoes after a busy day of activities. We will set up a projector and popcorn machine. All you need to do is bring your favorite movie.
Night Hike
(min age: 3rd grade) With only the moon and the stars lighting the way, participants will use their night vision to set off on a hike around camp. During this hike, participants will learn about rods and cones, night creatures, and triboluminescence. Available fall season only.
High Ropes Courses
Appalachian High Ropes Course
(min age: 7th grade) Head up into the sky and be challenged as two participants work together to make their way around this high ropes course. Available only at Mountain Campus in Luray, VA. 
Blue Ridge Medium Ropes
(max age: 4th grade) This is the perfect experience for younger grades as they get comfortable in a harness and with heights. This course is 8ft off the ground. Available only at Mountain Campus in Luray, VA. 
Massanutten High Ropes Bornack Course
(min age: 7th grade) For participants looking for an added challenge, they can take on our classic Massanutten course with a new twist. Using our auto-locking system, students will navigate the course and work to overcome a series of obstacles on their way to the zipline. Only available for groups over 24 participants. Available only at Camp Horizons in Harrisonburg, VA. 
Massanutten High Ropes Course
(min age: 5th Grade) Try out our improved high ropes experience! From the "Postman's Walk" to the "Pirate's Crossing," participants will get to navigate their way through a single element before flying down the zipline. Only available for groups over 24 participants. Available only at Camp Horizons in Harrisonburg, VA. 
Shenandoah High Ropes Course
(min age: 5th Grade) Combining teamwork and individual growth, the Shenandoah course encourages trust and perseverance. Following Challenge By Choice practices, participants try out individual elements while their teammates belay them from below. Available only at Camp Horizons in Harrisonburg, VA. 
Personal Challenge Elements
Climbing Wall
(min age: 3rd grade) Reach new heights on our 40ft climbing tower. Using harnesses, ropes, and the belay system, participants may enjoy the beginner wall, the challenge of the overhang, or the fun of the cargo net and moving structures on the play pen side.
Flying Squirrel
(max age: 3rd grade) Attached to the end of a rope, the participant sets off running at the same moment their teammates start pulling the other end of the rope. The participant is lifted off the ground up to 20' as they fly upwards just like Peter Pan. This is a great element for young participants and helps them build up to other high adventure activities.
Giant Swing
(min age: 4th grade) Harnessed in and attached to metal cables, one participant is pulled high into the air by their teammates. When ready, the participant pulls the release and is sent swinging back and forth.
Giant's Ladder
(min age: 5th grade) Done in pairs, the Giant's Ladder is a powerful partner-team tool. Imagine a wide ladder with large wooden rungs. Each step gets progressively bigger, from three to six feet apart. Participants find out quickly how important it is to help each other and that their success depends on their teammate.
Leap of Faith
(min age: 5th grade) While on belay, participants will climb to the top of a telephone pole where they will be challenged to stand on top. What comes next is the "Leap of Faith!" With encouragement from their teammates, they will jump off the pole and high five the ball suspended in the air.
Zipline
(min age: 5th grade) Participants will push their personal boundaries as they climb up towards the zip platform. Once at the platform, participants will slide off and zoom down the 400ft zipline!
Team Building

Field Initiatives
(min age: 1st grade) Using portable games and team-building activities, groups will learn communication, planning, and teamwork while completing challenges and solving problems. With outcomes similar to the Team-Building Course, this is a great choice during inclement weather or shorter activity times as all initiatives can be completed inside.
Team-Building Course
(min age: 4th grade) Using prebuilt elements such as the Birthday Beam, Whale Watch, and Toxic Waste, participants will be challenged to complete a task. Some tasks have physical challenges while some require great planning and cooperation. An instructor will lead your group through challenges that fit your group and meet your needs.