Employment
Love the outdoors?! Make it your job at the Outdoor Learning Center! We are now hiring for Fall 2023!
OLC Instructor (Full-time, Seasonal)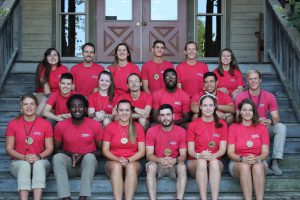 Horizons Outdoor Learning Center Instructors:
We are in the business of designing powerful outdoor educational programs, creating safe and memorable events, and providing the folks who stay with us an opportunity to enjoy the Shenandoah Valley in a number of different ways. With a year-round team of professional staff to handle all the logistics and planning, we are pretty well set up to support or create whatever our client groups are looking for.
However, to make those plans a reality, we hire 14 to 16 OLC Instructors to work from approximately mid-March to June 1 and mid-August through mid-November. With the heart of our work centered around outdoor adventure and education, and our largest customers being K-12 school groups, we are looking for folks with a passion for the outdoors and a love of working with kids. Our ideal candidates have backgrounds in camp, outdoor recreation programs, classroom teaching, or environmental education programs. We also look for folks who see employment with us as a natural step towards a career in outdoor and environmental education or traditional classroom education.
As an OLC Instructor, you will be part of a close-knit community of educators and instructors who strive to enrich the lives of our participants through outdoor adventure challenges, team-building facilitation, and environmental education. And with the goal of quality professional development at the core of our business, we are proud to offer top-notch training and in-services to the folks who work with us. Competitive pay, on-site housing, meals during programming, and access to a network of outdoor businesses also add to the perks of working with us.
However, we are most proud of the culture that we create as a team here at the OLC. We work very hard to create an atmosphere between the managers and the instructors that are conducive to learning and growing as an outdoor professional. Additionally, we work really hard to make this feel like your home away from home. 
If you are interested, please submit an Interest Form or reach out to us at JoinOLC@horizonsva.com.  
Check out our OLC staff packing list here!
---
Garden Lead (Full-time, Seasonal)
Garden Lead:
As the Garden lead, you will be providing hands-on learning to students of all ages. With classes ranging from teaching the basics of planting to creating garden art with students, you will teach a fun variety of classes. When you are not teaching, you will help maintain the educational garden, hoop houses, and production garden.
Interested? Have two green thumbs? Please submit an Interest Form or reach out to us at JoinOLC@horizonsva.com.  
---
Support Staff (Part-time, Seasonal)
Seasonal Bus Driver:
Looking for a person with a Commercial Drivers License along with Passenger and Air-Brakes endorsements. This employee will likely get 15-20 hours per week and would need to be available for part-time/seasonal employment through the OLC Fall 2023 season (mid-August through mid-November). Most transport is local to the Shenandoah Valley region.
Ready to drive those kiddos on a canoeing trip? Fill out an Interest Form or reach out to us at JoinOLC@horizonsva.com.